San Rafael Police Association
Welcome to the San Rafael Police Association website. The San Rafael Police Association is a group of 75 members representing police officers, supervisors and professional staff. Our mission is to support our members, and members of the community of San Rafael. To that end we support a number of community based organizations, the majority of which focus on our youth. Our broader mission includes supporting legislation and initiatives that promote public safety and support our brothers and sisters in the greater law enforcement community. We are proud to be your community partners and appreciate the ongoing support we receive from the residents of San Rafael. We look forward to working with you to keep San Rafael a thriving community focused on families.
Meet the Board
PRESIDENT:
Zachary Brickell
My name is Zach Brickell and I have worked for the the San Rafael Police Department for three years. I have worked patrol and street operations. I am currently a K9 handler with canine Achilles and a member of the SWAT team. This is my first time time serving on the San Rafael Police Association Board. My hope is for the San Rafael Police Association to be very involved in the community we serve and to continue to give back to the citizens of this great city.
SECRETARY:
Cynthia Morgan
Cynthia Morgan grew up in military family and has lived all over the world. She has lived all over the United States, England and Japan. She started her career at San Rafael Police department in 2016. She is a Records Specialist/Call Taker, and a member of the Crime Scene Investigator Unit.
SERGEANT AT ARMS:
Mark Wilkinson

DIRECTOR AT LARGE:
Brandon Nail

DIRECTOR AT LARGE:
Robert Cleland

VICE PRESIDENT:
Christopher Fuller
Chris Fuller grew up in Sacramento, CA. and attended the University of California, Davis where he graduated with BA in Psychology. In 2011, Chris was hired by the Sacramento Police Department and attended the Sacramento Police Academy. In 2012, Chris was hired as an officer with the San Rafael Police Department and has worked with SRPD for approximately four years. Chris is currently the Sex Crimes Detective in the San Rafael Investigations unit. Chris is in his second year as a board member on the San Rafael Police Association.

TREASURER:
Raul Aguilar
Sergeant Raul Aguilar is the Treasurer of the San Rafael Police Association. He joined the San Rafael Police Department in 1999. He has held multiple assignments, including Field Training Officer, Street Crimes Officer, Sexual Assault Detective and Corporal. In 2009, he was promoted to Sergeant and has led Patrol Teams, the Street Crimes Unit, and the Traffic Unit. Sergeant Aguilar is currently in charge of Community Engagement and Social Media for the San Rafael Police Department. Sergeant Aguilar holds a Masters Degree in Public Affairs from the Goldman School of Public Policy at UC Berkeley. Sgt. Aguilar volunteers his time in several local non-profit boards and enjoys hiking the emerald hills of Marin County.
DIRECTOR AT LARGE:
Alex Holm
Alex Holm started at San Rafael Police Department as a Cadet in 2003. He is currently a Sergeant in the Patrol Division. He has worked as a patrol officer, footbeat officer, and a detective. Alex also maintains the San Rafael Police Department website, and is part of the crime scene investigation team, and major accident investigation team. He has been on the San Rafael Police Assocation board since 2012.
DIRECTOR AT LARGE:
Trevor Carney

Community Involvement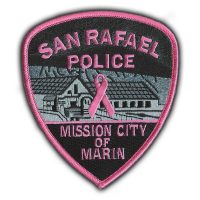 In honor and recognition of Breast Cancer Awareness Month, the San Rafael Police Department and San Rafael Parking Services will be participating in the Pink Patch Project San Rafael. This project is a quickly growing law enforcement public awareness campaign that has taken hold in Southern California, specifically Los Angeles County. The San Rafael Police Association is leading the effort to raise awareness about breast cancer. For the month of October, patrol and field personnel will wear pink and black uniform patches, in lieu of standard issued patches, to show their support for breast cancer awareness.
Several community partners have joined in support of this program, including Zero Breast Cancer of Marin, the Marin County Department of Health and Human Services, Kaiser Permanente, and Alex's Dry Cleaning.
The commemorative pink patches are available for purchase online through the San Rafael Police Association, and at the San Rafael Police Department Main Office, during business hours only, for $10 each (cash or check). The proceeds of patch sales will go to Zero Breast Cancer Marin, a local not-for-profit organization, with a mission to help individuals and communities understand scientific research on environmental risk factors and lifestyle variables that influence breast cancers. They promote disease prevention through targeted communication of evidence-based recommendations that support health and wellness at key stages of life.
Donate
Your donations are greatly appreciated!  To make a donation, please use the form below.
Contact
Mailing Address:
PO BOX 151557
San Rafael, CA 94915