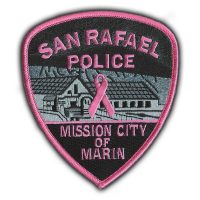 About the Pink Patch Program
In honor and recognition of Breast Cancer Awareness Month, the San Rafael Police Department and San Rafael Parking Services will be participating in the Pink Patch Project San Rafael. This project is a quickly growing law enforcement public awareness campaign that has taken hold in Southern California, specifically Los Angeles County. The San Rafael Police Association is leading the effort to raise awareness about breast cancer. For the month of October, patrol and field personnel will wear pink and black uniform patches, in lieu of standard issued patches, to show their support for breast cancer awareness.
Several community partners have joined in support of this program, including Zero Breast Cancer of Marin, the Marin County Department of Health and Human Services, Kaiser Permanente, and Alex's Dry Cleaning.
The commemorative pink patches are available for purchase through the San Rafael Police Association at the San Rafael Police Department Main Office, during business hours only, for $10 each (cash or check). The proceeds of patch sales will go to Zero Breast Cancer Marin, a local not-for-profit organization, with a mission to help individuals and communities understand scientific research on environmental risk factors and lifestyle variables that influence breast cancers. They promote disease prevention through targeted communication of evidence-based recommendations that support health and wellness at key stages of life.
Frequently Asked Questions
Are Marin County's breast cancer rates still the highest?
Breast cancer rates in Marin County have decreased and now are about the same as the rest of California. Deaths from breast cancer continue to go down here and elsewhere.
Who gets breast cancer?
Breast cancer is much more common in women and risk increases with age. Yet men and young women can get breast cancer, too.
Is there anything we can do to prevent breast cancer?
Studies have shown that yes, we can reduce breast cancer risk. The Zero Breast Cancer brochure focuses on risk factors we can control.
Where is the Pink Patch Project money going?
Funds raised are going to Zero Breast Cancer, a local organization focused on prevention. Check out their website at http://www.zerobreastcancer.org.
Is my donation tax deductible?
The San Rafael Police Association is in the process of forming a 501(c)(3) Community Benefit non-profit. Until the organization is formed, your donation is not tax deductible. Be assured that the proceeds from the Pink Patch Project will go directly to Zero Breast Cancer, a Marin organization.
Are San Rafael Police Officers wearing the patches?
Yes! For the month of October, San Rafael Police Officers may choose to wear the pink patches on their uniform. Alex's Dry Cleaning has even offered to put the patches on officer's uniforms for free!
How much are the patches?
We will send you one patch for every $10 donation. Shipping and handling fees are $2.00 per order. Please use the form above to make a donation and receive your patches!
What is your refund policy?
Unfortunately, because we are simply providing pink patches as a thank-you for your donation, we cannot provide refunds. If you are not satisfied with the patches you receive, please contact us as soon as possible so we can make it right!
Is the Pink Patch Project San Rafael it's own organization?
No, the Pink Patch Project San Rafael is sponsored by the San Rafael Police Association
What is your Privacy Policy?
We will not sell, or provide your information to anyone! Read our entire privacty policy.